Trade Update - Tuesday, May 2, 2017
Featured Headlines
CalChamber Companies in the News
Google Spins Up Its First Servers in Cuba
NPR, April 27, 2017
Amazon Honors World Book Day with Global Free Library Events in Twelve Countries Around the World
Amazon, April 27, 2017
Aerojet Rocketdyne Successfully Completes Qualification Tests on Reusable Engine to Support Next Era of Human Spaceflight from the United States
Aerojet Rocketdyne, April 20, 2017
Trade Policy
From the White House
Presidential Executive Order on the Establishment of the American Technology Council
May 1, 2017
Presidential Executive Order Addressing Trade Agreement Violations and Abuses
April 29, 2017
Presidential Executive Order on Establishment of Office of Trade and Manufacturing Policy
April 29, 2017
Press Briefing by Secretary of Commerce Wilbur Ross on an Executive Order on Trade Agreement Violations and Abuses
April 28, 2017
Presidential Executive Order Implementing an America-First Offshore Energy Strategy
April 28, 2017
President Donald J. Trump Stands up for American-Made Aluminum
April 27, 2017
Readout of President Donald J. Trump's Call with President Peña Nieto of Mexico and Prime Minister Trudeau of Canada
April 26, 2017
Presidential Executive Order on Promoting Agriculture and Rural Prosperity in America
April 25, 2017
From the Department of Commerce

U.S. Department of Commerce Will Resume the Collection of Duties on Mexican Sugar if Negotiations Fail
May 1, 2017
Statement from U.S. Secretary of Commerce Wilbur Ross on the GDP Growth in the First Quarter of 2017
April 28, 2017
Joint Statement on the Signing of a Memorandum of Understanding Between the United States and Argentina on Regulatory Coherence and Private Sector Engagement
April 27, 2017
President Donald J. Trump Signs Presidential Memo Prioritizing Department of Commerce National Security Investigation into Aluminum
April 27, 2017
From the U.S. Trade Representative
USTR Releases 2017 Special 301 Report on Intellectual Property Rights
April 28, 2017
From the International Trade Administration
Small and Medium-Sized Enterprises Reaching New Markets
May 1, 2017
Commercial Service Officers Travel Throughout Northern California Spreading the Word About Export Opportunities in Asia
April 28, 2017
From the World Trade Organization
DG Azevêdo: Global Trade Challenges are Best Tracked Through the Multilateral System
April 28, 2017
Trade Agreements
TPP Nations Meet in Canada to Discuss Fate of Pact Without U.S.
Bloomberg, May 1, 2017
Mexico Calls on Trump to Reuse TPP Deals to Reanimate NAFTA
Financial Times, April 30, 2017
Trump Vows to Fix or Scrap South Korea Trade Deal, Wants Missile System Payment
Reuters, April 28, 2017
EU Trade Chief Sees a Good Case to Resume EU-US Free Trade Talks
Reuters, April 27, 2017
EU in Rush to Fill Trump Trade Void with Pacific Partners
Reuters, April 26, 2017
Mexico Sees NAFTA Trade Talks Starting in August: Minister
Reuters, April 26, 2017
Federal
Hearings: Administration Report on Significant Trade Deficits
May 10, 2017 deadline for interested persons.
May 18, 2017 9:30a.m. EDT public hearing.
Pursuant to Executive Order 13786 of March 31 2017, the Secretary of Commerce and USTR, in consultation with the Secretaries of State, the Treasury, Defense, Agriculture, and Homeland Security and other executive departments shall prepare and submit to the President an Omnibus Report on Significant Trade Deficits.

Executive Order here.
Trump's Trade Warrior is the Most Unpopular Economist in the Class
Bloomberg, May 2, 2017
Trump to Order a Study on Abuses of U.S. Trade Agreements
Reuters, April 28, 2017
Revising NAFTA: The Stakes for Key Industries
The New York Times, April 27, 2017
Foreign Workers Turn to Alternative Visas as H-1Bs Tougher to Get
San Francisco Chronicle, April 27, 2017
Trump Rules Out Swift Nafta Exit in Favor of Renegotiation
AJOT, April 27, 2017
California
Companies Would Face Tighter Environmental Restrictions in California Under New Cap-and-Trade Proposal
Los Angeles Times, May 1, 2017
Is California's Legislature the Most Liberal in State History?
The Sacramento Bee, April 29, 2017
Trump Order Could Open California Coast, Arctic to New Oil and Gas Drilling
Los Angeles Times, April 27, 2017
More International Articles
Britain's May Says EU United in Getting Deal that 'Works for Them'
Economic Times, May 2, 2017
A Win-Win Strategy for 100 Days: 5 Ways China Can Open Its economy to the U.S.
U.S. Chamber of Commerce, May 1, 2017
Asia Nations Pulled into China's Orbit as Trump Puts America First
Reuters, May 1, 2017
Trump Says North Korea is "Maybe More Important" Than Better Trade Deal with China
CBS News, April 30, 2017
Japan's Labor Shortage Prompts Shift to Hiring Permanent Workers
Bloomberg, April 30, 2017
Why Trump's Talk on NAFTA Matters to the Rest of Latin America
The Sacramento Bee, April 30, 2017
EU Makes Demands of Britain as Brexit Talks Near
The Sacramento Bee, April 29, 2017
Milk Wars Curdled U.S.-Canada Ties Long Ago
AJoT, April 29, 2017
Elsztain Says Argentina Offers Best Opportunity in 25 Years
Bloomberg, April 28, 2017
Brazil Minister Backs Tariff to Curb U.S. Ethanol Imports
Reuters, April 27, 2017
Softwood Deal was Close, But Canada Gambled on Better Terms from Trump, Former U.S. Trade Rep Says
CBC News, April 26, 2017
Canada Reports Progress with U.S. on Lumber, 'But Not There Yet'
Reuters, April 26, 2017
Colombia is a 'Smart Power' Success Story
The Wall Street Journal, April 24, 2017
Share Trade Update: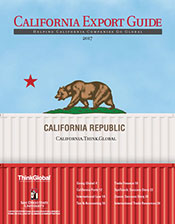 The California Export Guide is published by ThinkGlobal Inc. in partnership with the Center for International Business Education and Research (CIBER) at San Diego State University. The guide provides expert advice and information for exporters.
You can view the entire
Trade Update on our website.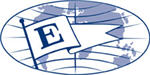 President's Export Award Recipient
Visit CalChamber.com/International for export/import information, trade stats, trade policy, FAQs and more.

Upcoming Events:
5/4/2017
World Trade Week Celebration Breakfast

5/4/2017
Asia Society 14th Annual Dinner

5/4/2017
Asia Society 14th Annual Dinner

5/8/2017
California Pavilion - TUTTOFOOD Milan World Food Exhibition

5/14/2017
Seoul Food & Hotel

5/17/2017
23rd IE Annual World Trade Conference

5/24/2017 - 5/25/2017
26th La Jolla Energy Conference

5/28/2017 - 6/2/2017
NAFSA 2017 Annual Conference and Exhibition

5/31/2017
CalChamber Council for International Trade - International Forum

6/18/2017 - 6/20/2017
SelectUSA Investment Summit

6/29/2017 - 6/30/2017
5th Annual Pacific Cities Sustainability Initiative


California Coalition
for Free Trade
A broad-based group of companies and business organizations working to secure a national free trade agenda.
Join or Learn More
Resources:
California Congressional Delegation Pictorial Roster
California Congressional Committee Assignments
California Legislative Pictorial Roster
Federal Government:
The White House

The U.S. Senate

The U.S. House of Representatives

U.S. Department of Commerce

U.S. Trade Representative
State Government:
Governor

California State Senate

California State Assembly

California Department of Finance

Governor's Office of Business and Economic Development – GO Biz

GO-Biz California Business Portal: A One-Stop-Shop Website for Business Owners



Free eNewsletters
Receive free eNewsletters to help keep you up to date on the laws affecting you and your business. To subscribe to any of the newsletters, visit this link.

Connect with CalChamber
Note: This email is being sent to members of the CalChamber Council for International Trade; CalChamber members with international interests; local, binational and American chambers of commerce abroad; the consular corps; California congressional delegation, selected U.S. and California government officials; and representatives of business and trade associations.

If you would like to be added to the subscriber list for this free e-newsletter, please click here.
To unsubscribe from Trade Update, please email us.
1215 K Street, Suite 1400
Sacramento, CA 95814
916 444 6670
www.calchamber.com/international international@calchamber.com