Trade Update - Tuesday, March 14, 2017
Featured Headlines
CalChamber Companies in the News
Bank of America Merrill Lynch Named Global Bank of the Year
for Payments and Collections
Bank of America Newsroom, March 8, 2017
Boeing's Longest 737 Max Can't Debut Soon Enough for One Buyer
AJoT, March 7,2017
Anthem Blue Cross Foundation Tackled Some of California's Most Complex Health Needs in 2016
Anthem Blue Cross, March 2, 2017
Trade Policy
From the Department of Commerce
Secretary Wilbur L. Ross, Jr. and Secretary Ildefonso Guajardo Villareal Announce New Efforts to Resolve Mexican Sugar Export Issues
March 10, 2017
From the World Trade Organization
Mexico Files WTO Complaint Against Costa Rica
Over Restrictions on Avocado Imports
March 8, 2017
Turkey Files WTO Complaint Against US Countervailing Duties
on Pipe and Tube Products
March 8, 2017
From the Department of the Treasury
Readout of Secretary Mnuchin's Meeting with Mexican Secretary
of Finance and Public Credit Jose Antonio Meade
March 7, 2017
From the U.S. Department of State
State of Global Partnerships 2017 Report
March 6, 2017
Trade Agreements
FTA Provisionally Signed Between S. Korea
and Five Latin American Countries
Business Korea, March 13, 2017
EU and Asean Agree to Put Free Trade Pact Back on Agenda
The Business Times, March 10, 2017
Paths Open to New Pacific Trade Pact, Post-TPP – Chile Trade Head
Reuters, March 10, 2017
EU-Vietnam Free Trade Agreement – Market Access Overview
Lexology, March 8, 2017
NZ-EU Free Trade Deal One Step Closer
Radio NZ, March 8, 2017
EU, Singapore Affirm Commitment to Free Trade Agreement
The Strait Times, March 8, 2017
Meetings Begin to Establish Peru/India Trade Agreement
Fresh Plaza, March 7, 2017
Canada-China Free Trade Deal: Government Wants Your Input
The Huffington Post Canada, March 7, 2017
Federal
Trump's Trade 'Hammer' Aims to Pound China,
Mexico and the WTO
Bloomberg, March 13, 2017
How Much Do You Really Know About U.S. Trade?
Take This Quiz and Find Out
MarketWatch, March 8, 2017
To Reduce Trade Deficit, White House Wants Partners to Buy American
The Wall Street Journal, March 8, 2017
U.S. Will Send its Ambassador to Chile to Trade Summit
World Trade Online, March 7, 2017
Oil Imports Lift U.S. Trade Deficit to Near Five-Year High
Reuters, March 7, 2017
California
Report Says Travel Ban Could Impact Tourism and Production
of Food, Clothing and Homes in California
Los Angeles Daily News, March 8, 2017
Uncertainties over Trump Policies Expected to Slow California,
Bay Area Job Growth
The Mercury News, March 8, 2017
More International Articles
Spain Says Independent Scotland Would Be at Back of EU Queue
Associated Press, March 14, 2017
U.K. Parliament Gives Theresa May Permission to Start Brexit
Bloomberg, March 13, 2017
Beijing Won't Turn International Trade into a Geopolitical Game
Global Times, March 12, 2017
Trump Boosts South American Trade Talks, Brazil Minister Says
Bloomberg, March 10, 2017
EU Capitalizing on Free-Trade Interest Amid Gloom Over Trump Policies
Reuters, March 10, 2017
China Accuses US of Starting a Trade War if it Ignores the WTO
South China Morning Post, March 10, 2017
Mexico Lays Out Faster Nafta Timeline Than U.S. Signals
Bloomberg, March 9, 2017
Don't Revive Dead TPP, Say 200 Organisations in 15 Countries
Scoop, March 9, 2017
Poles Apart as EU Leaders Gather to Decide Next Council Head
Reuters, March 9, 2017
Mexico Cancels Sugar Export Permits to U.S. in Trade Dispute
Reuters, March 8, 2017
With Tough Part of Brexit Ahead, UK Marshals its Resources
AP, March 8, 2017
China Trade Deficit Mask Strength Risking U.S. Trade Spat
Bloomberg, March 8, 2017
(Leading Contender for the Presidency of Mexico) Margarita Zavala: Will Americans Let Trump Destroy U.S.-Mexico Relations?
The Washington Post, March 7, 2017
Canada Posts Third-Straight Trade Surplus as Car Exports Rebound
Bloomberg, March 7, 2017
Share Trade Update: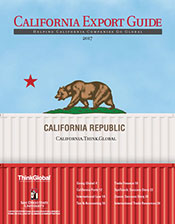 The California Export Guide is published by ThinkGlobal Inc. in partnership with the Center for International Business Education and Research (CIBER) at San Diego State University. The guide provides expert advice and information for exporters.
You can view the entire
Trade Update on our website.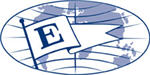 President's Export Award Recipient
Visit CalChamber.com/International for export/import information, trade stats, trade policy, FAQs and more.

Upcoming Events:

3/15/2017
Hungary 2017: Europe's Innovation and Investment Hub

3/19/2017
CITD California Policy Mission to Australia

3/23/2017 - 3/24/2017
The Connect to Thrive Global Summit

3/23/2017 - 3/24/2017
Connect to Thrive - Impact of Digital Data and Commerce Across the Global Supply Chain

3/27/2017
Asia Pacific Business Outlook Conference 2017

4/5/2017
Trade Connect Introductory Workshop

4/17/2017-5/22/2017
Orange County CITD - Export Compliance Training Program

4/28/2017
NAFTA's Economic Progress 2017

5/4/2017
World Trade Week Celebration Breakfast

5/8/2017
California Pavilion - TUTTOFOOD Milan World Food Exhibition

5/28/2017
NAFSA 2017 Annual Conference and Exhibition

6/18/2017
SelectUSA Investment Summit
California Coalition
for Free Trade
A broad-based group of companies and business organizations working to secure a national free trade agenda.
Join or Learn More
Resources:
California Congressional Delegation Pictorial Roster
California Congressional Committee Assignments
California Legislative Pictorial Roster
Federal Government:
The White House

The U.S. Senate

The U.S. House of Representatives

U.S. Department of Commerce

U.S. Trade Representative
State Government:
Governor

California State Senate

California State Assembly

California Department of Finance

Governor's Office of Business and Economic Development – GO Biz

GO-Biz California Business Portal: A One-Stop-Shop Website for Business Owners



Free eNewsletters
Receive free eNewsletters to help keep you up to date on the laws affecting you and your business. To subscribe to any of the newsletters, visit this link.

Connect with CalChamber
Note: This email is being sent to members of the CalChamber Council for International Trade; CalChamber members with international interests; local, binational and American chambers of commerce abroad; the consular corps; California congressional delegation, selected U.S. and California government officials; and representatives of business and trade associations.

If you would like to be added to the subscriber list for this free e-newsletter, please click here.
To unsubscribe from Trade Update, please email us.
1215 K Street, Suite 1400
Sacramento, CA 95814
916 444 6670
www.calchamber.com/international international@calchamber.com