Tuesday, February 13, 2018
Featured Headlines
CalChamber Companies in the News
Amazon Eyes New Warehouse in Brazil E-Commerce Push
Reuters, February 9, 2018
UPS Announces New Worldwide Express Freight Midday Service
AJoT, February 8, 2018
Trade Policy
From the White House
Press Briefing by OMB Director Mick Mulvaney on President Trump's FY2018 Budget
February 12, 2018
President Donald J. Trump Announces Intent to Nominate Harry B. Harris Jr. to be Ambassador Extraordinary and Plenipotentiary of the United States of America to the Commonwealth of Australia
February 9, 2018
Vice President Pence: The U.S. Will Unveil New Tough and Aggressive Sanctions on North Korea
February 7, 2018
From the U.S. Department of Commerce
The Department of Commerce Budget in Brief: Fiscal Year 2019
February 2018
U.S. Department of Commerce Initiates Antidumping Duty and Countervailing Duty Investigations of Imports of Large Diameter Welded Pipe from Canada, Greece, China, India, Korea, and Turkey
February 13, 2018
Secretary Ross Statement on Release of President Trump's "American Budget" for 2019
February 12, 2018
From the U.S. Department of State
Department of State and USAID FY 2019 Budget Proposal
February 12, 2018
Background Briefing Update on Secretary Tillerson's Trip to Amman, Jordan; Ankara, Turkey; Beirut, Lebanon; Cairo, Egypt; and Kuwait City, Kuwait
February 12, 2018
From the World Trade Organization
DG Azevêdo in UAE: Global Economy is Evolving, We Need to Adapt
February 13, 2018
Trade Growth to Sustain Momentum in First Quarter of 2018, Latest Trade Indicator Suggests
February 12, 2018
EU Seeks U.S. Compensation for Solar Panel Tariffs
Reuters, February 7, 2018
Trade Agreements
NAFTA
Next Round: February 26 in Mexico City
Canada to Face U.S. Trade Problems
Even If NAFTA is Signed
Reuters, February 13, 2018
NAFTA's Red Tape Fight Hits a Snag
Bloomberg, February 12, 2018
Trudeau Sees 'Clear Path Forward' on NAFTA
Bloomberg, February 11, 2018
End of NAFTA Wouldn't Be 'End of World':
Mexican Leftist's Top Diplomat
Reuters, February 9, 2018
Mexican Negotiator Takes
to Twitter to Defend NAFTA
The Washington Examiner, February 8, 2018
U.S. Senators Express Optimism
About NAFTA After Trump Meeting
Reuters, February 7, 2018
Trudeau Discusses NAFTA,
Trump at University of Chicago
U.S. News, February 7, 2018
Canada PM Says No NAFTA Deal Might
Be Better For Us Than a Bad One
Reuters, February 7, 2018
Annoyed with Canada, U.S. Trade Czar Floats
Idea of Separate NAFTA Deals, Lawmaker Says
Financial Post, February 7, 2018
Mexico Consumer Confidence
Dips Amid NAFTA Uncertainty
Reuters, February 6, 2018
Australia, Peru Sign Free Trade Agreement
XinhuaNet, February 12, 2018
The EU, Mercosur and the Two Decade Push for a Free Trade Agreement
World Politics Review, February 12, 2018
(Bahrain-US) Free Trade Deal, a Boon to Economy
News of Bahrain, February 12, 2018
Chile Prepares TPP-11 Signature Ceremony in Santiago
Prensa Latina, February 10, 2018
CPTPP – The Gold Standard Without the United States
Lexology, February 8, 2018
U.S. Trade Deal Isn't Key to Brexit Success, U.K.'s Labour Says
Bloomberg, February 8, 2018
EU Tells Trump: No Paris Climate Deal, No Free Trade
Forbes, February 8, 2018
Qatar, U.S. to Hold Talks Over Free Trade Agreement
XinhuaNet, February 7, 2018
Pence Refers to Possible U.S. Return to TPP in Talks with Aso
Kyodo News, February 7, 2018
India-EU Talks on Free Trade Agreement Expected Soon
LiveMint, February 7, 2018
Mexico Aims for EU Free-Trade Deal by End of February
February 7, 2018
China's Trade Deal Trumped by Trans-Pacific Partnership
Financial Review, February 7, 2018
Federal
President Trump's Fiscal 2019 Budget Proposal – Live Analysis
The Wall Street Journal, February 12, 2018
Food, Ag Group Wants to Share Ideas on TPP Re-Engagement
Food Business News, February 12, 2018
Trump Trade Measures Set Off a Global Legal Pushback
The New York Times, February 9, 2018
How Soaring U.S. Oil Exports to China are Transforming the Global Oil Game
Reuters, February 9, 2018
South Korea is Trump's One Bright Spot on Trade
The Diplomat, February 9, 2018
U.S. Beef, Pork Exports Break Records
Capital Press, February 8, 2018
California
In California Visit, Trudeau Mixes Job Deals with Defense of NAFTA
KQED, February 10, 2018
California Governor Optimistic About Cooperation with China
XinhuaNet, February 10, 2018
Gov. Brown, SF Chinese Consulate Hold Lunar New Year's Launch
Fox KTVU, February 9, 2018
Trudeau Pitches Canadian Globalism to Silicon Valley Tech Firms
The Star, February 8, 2018
California Governor Brown Meets with Canada Prime Minister Trudeau in San Francisco
Office of Governor Edmund G. Brown Jr., February 9, 2018
Strong Finish in December Lifts California's Export Trade Industry
The Sacramento Bee, February 7, 2018
More International Articles
The China Dashboard – Quarterly Net Assessment
Asia Society Policy Institute, Winter 2018
U.S. Chamber International IP Index
February 2018
Mexico Should Look to Central, South America for Trade, Says ECLAC
XinhuaNet, February 13, 2018
China Imposes Anti-Dumping Measure Amid Trade Tensions
AP, February 13, 2018
Brazil Intensifies Talks in Paris to Join OECD
Latin Trade, February 12, 2018
Britain's BFF Unconvinced By Its Post-Brexit Vision
Politico, February 12, 2018
Merkel Insists She Intends to Stay in Power Until 2021
Politico, February 11, 2018
Denmark's Tech Ambassador is a World First and Isn't Tied to a Country
NPR, February 9, 2018
Japan's Own Belt and Road
Foreign Policy, February 9, 2018
Britain Tells Business – We Cannot Guarantee Your Brexit Future
Reuters, February 7, 2018
Germany's Trade Surplus Shrinks for First Time Since 2009
Reuters, February 7, 2018
U.S.-China Trade Deficit Hits Record, Fueling Trade Fight
The New York Times, February 6, 2018
Share Trade Update: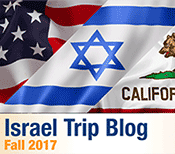 Israel Trip Blog - Fall 2017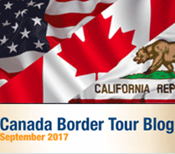 Canada Border Tour Blog - Sep. 2017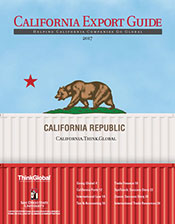 The California Export Guide is published by ThinkGlobal Inc. in partnership with the Center for International Business Education and Research (CIBER) at San Diego State University. The guide provides expert advice and information for exporters.
You can view the entire
Trade Update on our website.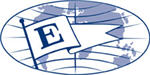 President's Export Award Recipient
Visit CalChamber.com/International for export/import information, trade stats, trade policy, FAQs and more.

Upcoming Events:
Israeli HLS Technologies Delegation
2/13/2018 - 2/16/2018

Export University Workshop: Market Entry and Tax Strategies
2/14/2018

Casualties of Trade War? What Changes in NAFTA Mean for Agriculture in California
2/22/2018

Import Compliance Training Program
2/23/2018

Asia Pacific Business Outlook Conference 2018
4/16/2018 - 4/17/2018

Business Forum: Innovations in Safety and Security
4/18/2018 - 4/20/2018

Expo Seguridad
4/242018 -4/26/2018

Expo Seguridad Mexico Trade Show
4/26/2018 - 4/28/2018

World Trade Week Kickoff Breakfast
5/4/2018

Water and Agriculture Technology Business Mission to Israel
5/8/2018 - 5/10/2018

21st Annual International Business Luncheon
5/24/2018

2018 SelectUSA Investment Summit
6/20/2018 - 6/22/2018

83rd Thessaloniki International Fair (TIF)
9/8/2018 - 9/16/2018



China International Import Expo
11/5/2018 - 11/10/2018
California Coalition
for Free Trade
A broad-based group of companies and business organizations working to secure a national free trade agenda.
Join or Learn More
Resources:
California Congressional Delegation Pictorial Roster
California Congressional Committee Assignments
California Legislative Pictorial Roster
Federal Government:
The White House

The U.S. Senate

The U.S. House of Representatives

U.S. Department of Commerce

U.S. Trade Representative
State Government:
Governor

California State Senate

California State Assembly

California Department of Finance

Governor's Office of Business and Economic Development – GO Biz

GO-Biz California Business Portal: A One-Stop-Shop Website for Business Owners




Free eNewsletters
Receive free eNewsletters to help keep you up to date on the laws affecting you and your business. To subscribe to any of the newsletters, visit this link.

Connect with CalChamber
Note: This email is being sent to members of the CalChamber Council for International Trade; CalChamber members with international interests; local, binational and American chambers of commerce abroad; the consular corps; California congressional delegation, selected U.S. and California government officials; and representatives of business and trade associations.

If you would like to be added to the subscriber list for this free e-newsletter, please click here.
To unsubscribe from Trade Update, please email us.
1215 K Street, Suite 1400
Sacramento, CA 95814
916 444 6670
www.calchamber.com/international international@calchamber.com