Daily Headlines April 20, 2022
We scan major news sources* and compile selected articles to keep you up-to-date on current issues affecting California business – the economy, health care, environment, transportation and more. Receive Daily Headlines by Email
Today's Top Story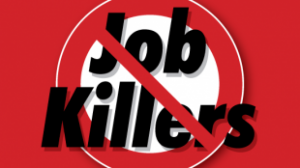 Job Killer Pay Data Publication Bill to Be Heard in Senate Next Tuesday
A California Chamber of Commerce job killer bill that will encourage lawsuits against businesses and make hiring more burdensome will be heard in the Senate Judiciary Committee on Tuesday. The bill, SB 1162 (Limón; D-Goleta), encourages litigation against employers based on the publication of broad, unreliable data collected by the state.
Top California News
Big Fight Brewing Over California Ballot Measure to Reduce Single-Use Plastics
"The way the law is written gives unfettered authority to CalRecycle to tax other recyclable products including glass, cardboard, et cetera to meet the goals of the ballot measure," said Michael Bustamante, spokesman for the "No on Plastics Tax" campaign. The coalition includes the California Business Roundtable, the California Retailers Assn. and the California Chamber of Commerce. Los Angeles Times (Subscription required)
Bill Putting Limits on Warehouse Construction Moves Through State Assembly
…A coalition of business interests have opposed the bill, including the California Chamber of Commerce, which tagged AB 2840 as a "job killer" earlier this month. "AB 2840 strips all local governments across California of their zoning and land use authority, ignores California's robust environmental laws and regulations applicable to this type of development and exacerbates existing supply chain problems and rising inflation plaguing California by making it harder and more expensive to develop these types of projects," Adam Regele, CalChamber senior policy advocate, wrote in an opposition letter. Sacramento Business Journal (Subscription required)
California Growth Continues in March Despite Labor Shortage
California employers added 60,200 jobs in March as the number of unemployed people in the nation's most populous state dipped below 1 million for the first time since the start of the pandemic. March 2020 was the start of unprecedented job losses in California, when Gov. Gavin Newsom issued the nation's first statewide stay-at-home order. The Associated Press (No subscription required)
California Democrats Are Delaying Their Vaccine Plans. Here's Why
California Democrats were moving toward requiring COVID-19 vaccines for students and keeping them from opting out of shots with personal belief exemptions. But the California Department of Public Health on Thursday announced it was delaying Gov. Gavin Newsom's school COVID-19 vaccine mandate until next year. And Sen. Richard Pan, D-Sacramento, said he was holding Senate Bill 871, which would have closed the personal belief exemption loophole. The Sacramento Bee (Subscription required)
Top National, International News
California Considers the Four-Day Workweek
…Earlier this month the California Chamber of Commerce added the bill to its "job killer list," saying the legislation would significantly increase labor costs. The Wall Street Journal (Subscription required)
* Some newspapers listed require the viewer to register, log in, or pay in order to view the entire article. After some time, most papers file older stories in their archive section. Access to those stories may require that you pay to view them.