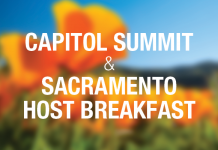 This year's 95th Annual Sacramento Host Breakfast will be held virtually on the Zoom platform and will feature remarks by Governor Gavin Newsom, as well as comments from the Chair of the California Chamber of Commerce Board of Directors, Donna Lucas, and Host Committee Chair and CalChamber Board Member Susan Savage.
The CalChamber Capitol Summit also will be held on Zoom and is scheduled for Wednesday, May 12, 10 a.m.–11:30 a.m. The Host Breakfast is set for Thursday, May 13, 8 a.m.–9 a.m.
The Governor's participation in the Sacramento Host Breakfast has been a tradition since 1935. Other breakfast guests include leaders from business, industry and agriculture, finance, education, the military and government.
Major sponsors of the Virtual Capitol Summit are the Automobile Club of Southern California, Crowe and Esquire Plaza. The gold sponsor is CSAA Insurance Group.
There is no fee to participate. Separate registration is required for each event. To register, visit www.calchamber.com/summit.