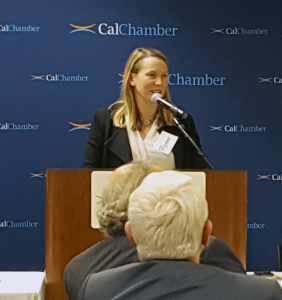 California Finance Director Keely Martin Bosler is scheduled to explain details of the Governor's budget proposal for 2020-2021 at a California Chamber of Commerce luncheon forum on Monday, January 13.
Governor Gavin Newsom is expected to unveil his budget proposal on Friday, January 10. In advance of that presentation, Governor Newsom yesterday signed an executive order creating the California Access to Housing and Services Fund. The fund will include $750 million from the new budget, and new investment to reform Medi-Cal to deliver integrated physical and behavioral health services.
Last year, Bosler addressed more than 100 business leaders at the CalChamber finance luncheon forum, covering several areas from Governor Newsom's budget proposal of interest to the business community, such as budget resilience, education, paid family leave, housing and federal tax conformity.
An article summarizing Bosler's presentation will run on the CalChamber website on Tuesday, January 14, and photos of the event will appear in the CalChamber Alert.