Trading Partner Portal: Germany
Overview
Trade Overview

Since the reunification over 20 years ago, the German economy has grown steadily to become Europe's largest economy, and the fifth largest in the world. Germany has a GDP of $3.36 trillion and a population of 81.4 million. CIA Factbook, World Bank
Germany holds the spot as the United States sixth top export destination, with exports steadily increasing over the past decade.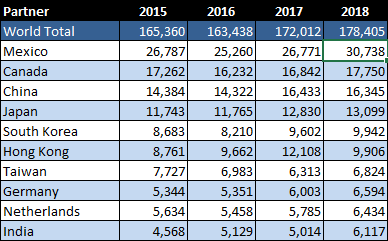 The United States exported $49.3 billion to Germany in 2016, with 28 percent being transportation equipment. Germany exported $114.2 billion to the US, with 31 percent being transportation equipment. Chemicals and machinery both contributed the total US imports from Germany with 18.5 percent and 16.2 percent, respectively.
As California's ninth largest export destination, Germany imported $5.3 billion in goods with 26.6 percent being computers and electronics. Chemicals, transportation equipment, and non electrical machinery each contributed between 13 and 9 percent of the total goods exported from California to Germany. (US Department of Commerce)
The One-Stop Shop for Trade News between Germany and North America
Characteristics of travellers from Germany to California – 2012
Visit California
Current
Merkel's Victory for the Transatlantic Economy
AICGS, September 23, 2013Germany and the Euro Zone Balance of Power: Transatlantic Trade to the Rescue?
AICGS, June 24, 2013
A New Trade Relationship with Europe?
The Ripon Forum, Summer 2012
Transatlantic Economy Remains Pivotal
The Transatlantic Economy 2012, a new report by Johns Hopkins University (SAIS), the European American Business Council and the American Chamber of Commerce in the EU, details how despite the recession, the US and Europe remain each other's most important markets. No other commercial artery in the world is as integrated. The US and Europe are each other's primary source and destination for foreign direct investment.
The entire Transatlantic Economy report is available here.
Foreign Direct Investment
Ranking as the third largest investor in the United States, Germany plays an important role in the U.S. economy with more than 10 percent of all FDI in the country. Of the $2.7 trillion in FDI stock recorded in 2012, Germany accounted for more than $272.2 billion. However, in 2015 German investment into the US fell to $255.47 billion. U.S. Department of Commerce, Bureau of Economic Analysis)
Tourism
The California Travel and Tourism Commission unveiled a German Web site to attract more German-speaking travelers to the Golden State. Visit California (Deutsch)

Approximately 338,000 German visitors came to California in 2010, a slight decrease the previous year. Germans spent approximately $325 million in California.
Hessen Slide Show
Hessen Slide Show
Hessen – one of Europe's most successful and welcoming global business regions. For inspiring images of successful companies, continental Europe's leading airport and financial center in Frankfurt, historical buildings, as well as some of the cultural events across Hessen, please view the link below:
Hessen Slide Show
Investors, business development executives, and government representatives at international trade fairs and events, are invited to preview Hessen's major location advantages such as multicultural diversity, an outstanding and innovative business location for diverse industries and a unique landscape with high quality of life.
Darmstadt – Hessen's Top ICT Location & Germany´s IT Security hub
Hessen Trade & Invest, August 2014
"Hessen has a remarkable track record when it comes to leading the way in the Information and Communications Technology (ICT) Sector. Darmstadt was ranked 7th in a study European ICT Poles of Excellence (April 2014) by the European Commission. 34 European ICT locations were considered out of 1,300 European regions across 12 countries. Germany, not surprisingly, is in the forefront with 12 locations out of the 34 considered (UK trails with 7)."
"Darmstadt is one of the largest and fastest growing IT Security locations in Europe with over 200 scientists in the area of IT security."
Events
Events
CalChamber Hosts Delegation from Germany
(July 13, 2009) CalChamber-hosted meeting with business and government officials from the state of Baden Württemberg in Germany are (from left): Dr. Hans-Dieter Frey, Ministry of Economics, Baden Württemberg; Acting Consul General Eberhard Brockmann, German Consulate General in San Francisco; Karlheinz Bechtle, Ministry of Economics, Baden Württemberg; Dr. Peter Kulitz, president, Ulm Chamber of Commerce; Dr. Dieter Salomon, mayor, City of Freiburg; The Honorable Ernst Pfister, minister, Ministry of Economics, Baden Württemberg; Dr. Bernd Dallmann, president, German Economic Developers Association; CalChamber President and Chief Executive OfficerAllan Zaremberg; Dr. Michael Hagenmeyer, chief executive officer, Baden Württemberg International; Susanne Stirling, CalChamber vice president, international affairs. Full Article
CalChamber Hosts German Minister of Foreign Affairs
California Partners with CeBIT

(August 31, 2007) The California Chamber of Commerce hosted the Honorable Frank-Walter Steinmeier, Minister for Foreign Affairs of Germany yesterday, for an international luncheon to discuss climate and energy policy.

(March 3, 2009) Governor Arnold Schwarzenegger pictured with German Chancellor Angela Merkel. Photo Courtesy Governor's Office

California Business, State's Leadership in Technology on Display at World's Largest Technology Trade Fair
Key Country Contacts
Resources
CalChamber Resources
Business
Cultural
Cultural/Educational