California Competes Tax Credit Applications Still Available
The Governor's Office of Business and Economic Development (GO-Biz) is accepting applications for the California Competes Tax Credit (CCTC).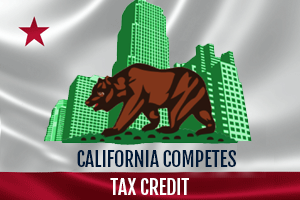 There is $68.3 million, plus any remaining unallocated amounts from the previous application periods, in tax credits available during this application period for businesses that are expanding and adding jobs in the state.
The deadline to submit applications is Monday, March 27, 2017, at 11:59 p.m. (Pacific Time). The online application website will automatically close once this deadline has passed.
The online application can be accessed at www.calcompetes.ca.gov.
In November 2016, six California Chamber of Commerce member companies were selected by GO-Biz as recipients for the CCTC.
Governor Edmund G. Brown Jr. created the California Competes Tax Credit in 2013 to focus on helping businesses grow and stay in California. This year through March 27, GO-Biz is allocating approximately $168 million in total tax credits.
Members of the CCTC team are available to provide technical application assistance. In addition, an application guide, Frequently Asked Questions (FAQs) and program regulations are available under the "Resources" tab at www.business.ca.gov/CalCompetes.aspx. For applicants that are reapplying, the FAQs include instructions on how to copy information from a previously submitted application.
About California Competes
The California Competes tax credit is part of the Governor's Economic Development Initiative, created when Governor Brown signed AB 93 and SB 90 in 2013. GO-Biz evaluates the most competitive applications based on the factors required by statute, including total jobs created, total investment, average wage, economic impact, strategic importance and more. Companies are exempted from paying state income taxes in the amount awarded.